The world is closely watching as the latest COVID variants, BA.2.86 and EG.5, enter the global stage, adding more complexity to the ongoing battle against the pandemic. In this blog post, we'll discuss these variants in detail.
Understanding these current COVID variants and knowing how to protect yourself is of paramount importance. Let's look at their potential implications, and most importantly, how telehealth services can serve as a vital tool in safeguarding your health.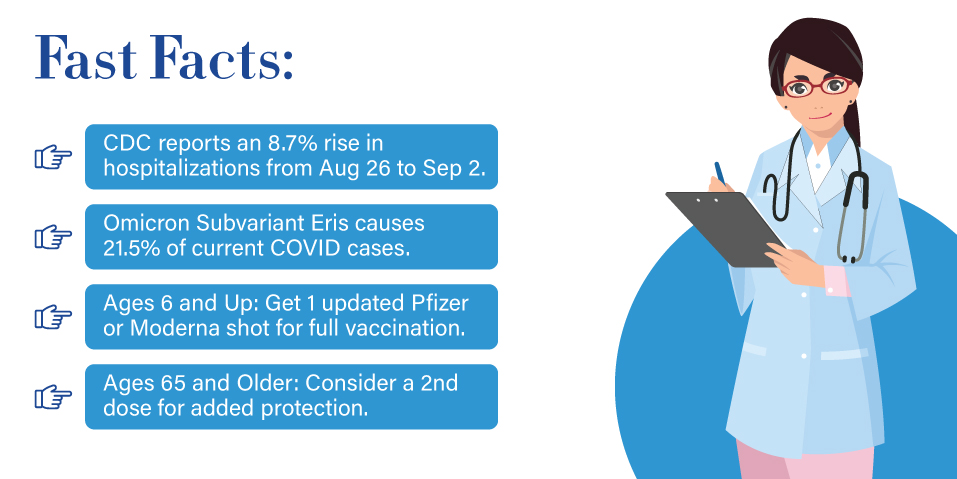 Meet the New Variants: Eris and Pirola
BA.2.86: The Omicron Subvariant
BA.2.86, nicknamed Pirola, is a subvariant of Omicron.
It is drawing concern for its increased transmissibility.
This variant has been detected in the United States, Canada, and Australia.
EG.5: The Descendant of XBB.1.9.2
EG.5, nicknamed Eris, is a novel variant with roots in the Omicron family (XBB.1.9.2).
The variant has reportedly emerged in China and the United States.
Both BA.2.86 and EG.5 exhibit multiple mutations in the spike protein, potentially enhancing transmissibility and posing challenges to the immune system.
The Escalation in COVID Cases
As the world grapples with the emergence of these new variants, the United States has seen a concerning surge in COVID-19 cases. Several factors contribute to this surge:
The relaxation of public health measures.
The highly transmissible nature of these new variants.
The US has an average of 50000+ new weekly cases, creating a significant public health challenge.
While hospitalizations and deaths are increasing, they are not rising as rapidly.
Uncertain Future: What Lies Ahead
The future remains uncertain, but we must be prepared for potential scenarios:
New variants could become dominant and lead to more severe illness.
The virus may continue to mutate, complicating vaccine and treatment development.
The pandemic's long-term societal and economic impact could persist.
Symptoms of the New Variants
Covid-19, like the flu, may have varying symptom severity in different seasons. Some seasons may see milder symptoms, while others may pose greater challenges.
Wondering what the symptoms of the latest Covid variants are? While it's tough to pinpoint exact details for each new variant, here's a general idea based on recent observations:
Symptoms of EG.5:
Doctors are reporting mainly mild or common COVID-19 symptoms.
These include complaints like a sore throat, cough, and runny nose.
Some people have even mistaken these symptoms for allergies.
Common Covid-19 Symptoms:
People with Covid-19 can experience a range of symptoms, including:
Muscle/ body pain
Consistent fever
Shortness of breath
Headache and tiredness
Loss of taste or smell
Congestion or runny nose
Sore throat
Nausea or vomiting
Diarrhea
Changes in Symptoms Over Time:
As the COVID variants have evolved, some of the earlier symptoms have become less common.
Loss of taste and smell, once widespread, has significantly decreased.
Gastrointestinal symptoms like nausea, vomiting, and diarrhea are now less common.
Cases of Multisystem Inflammatory Syndrome in Children (MIS-C) have also reduced, likely due to exposure and vaccination.
Read Also: Telehealth Solutions: 5 Reasons to Try Online Mental Health Therapy
The Importance of Testing
Since symptoms alone can't confirm a Covid infection, testing remains crucial. All Covid tests, including PCR and rapid tests, can detect the new variants. If you experience respiratory issues or are at high risk, testing is especially important.
Should you wear a mask?
Consider wearing a mask in crowded spaces like stores, offices, and public transportation, especially if you are 65+, have underlying health conditions, or are pregnant. Opt for N95, KN95, or KF94 masks for the highest protection.
There's Some Good News as Well!
The FDA has given the thumbs-up to two fresh Covid shots, courtesy of Pfizer-BioNTech and Moderna. These ones will give you a defense against EG.5 and other concerning variants. Another good thing is that you can get your COVID-19 and flu shots together.
Your Defense Strategy: How Telehealth Can Help
In these times of uncertainty, telehealth platforms stand as a powerful ally in your defense against COVID-19. Here's how:
Safety and Convenience: Telehealth allows you to access medical care while minimizing exposure to crowded healthcare settings.
Timely Consultations: With telehealth, you can consult with healthcare providers promptly, ensuring early detection and treatment.
Vaccination and Boosting: Telehealth appointments can facilitate discussions with healthcare professionals about vaccination and booster shots.
Monitoring Symptoms: Telehealth platforms enable real-time symptom monitoring and guidance.
Accessible Resources: Telehealth services offer a wealth of COVID-related information and resources to keep you informed.
Additional Steps to Protect Yourself
In addition to telehealth, here are some additional steps you can take to safeguard yourself and your loved ones:
Wash your hands frequently.
Avoid direct contact with those who are unwell,
Stay home if you are feeling unwell.
Consider a COVID-19 test if you develop the symptoms listed above.
Stay COVID-Ready and Connected with i-medicus Telehealth Solutions.
Get Started Today!
Conclusion
The emergence of new COVID variants and the increasing number of cases remind us that the pandemic is far from over. While the future remains uncertain, Telehealth services will be a crucial tool in this fight, providing safety, convenience, and access to healthcare services.
By staying informed, getting vaccinated and boosted, and following public health guidelines, we can navigate these uncertain times with resilience and strength.
FAQs
1. Why does COVID-19 spread more in the fall and winter?
Cold weather makes people stay indoors where viruses spread easily. Also, our immune system isn't as strong in the cold.
2. How do new COVID-19 variants affect us?
Variants like Eris and Pirola can cause more cases. Boosters help protect against these new versions.
3. Do we need COVID-19 boosters every year?
Yes, like the flu shot, we might need yearly COVID-19 boosters to stay safe.
4. Who should get COVID-19 boosters and when?
High-risk folks may need them more often. When to get one depends on your health and the virus's status.
5. How do COVID-19 vaccines and boosters work against new variants?
Vaccines help your body fight the virus. Boosters, even updated ones, keep you safe from severe sickness as the virus changes.
6. Where can I get the new Covid vaccines?
You can receive the new Covid vaccines at:
Local pharmacies.
Doctor's offices.
Public health departments.